Transforming Experience
Last May, more than a dozen black male students traveled to Atlanta on a cultural excursion designed to foster conversations about campus, community and leadership.
Students from Rice's Black Male Leadership Initiative (BMLI) ended their five-day cultural excursion to Atlanta this past May on an unexpected high note: A surprise encounter with Congressman John Lewis in a local restaurant one Sunday after church brought to life everything they'd learned about the civil rights era during their trip.
Organized by William Edmond, Rice's assistant director of multicultural affairs, the BMLI trip was conceived in response to a question Edmond had been considering since arriving at Rice in 2017 from The Ohio State University.
"What I asked myself at the beginning of planning this program was, 'What experience can I create to increase the leadership development and persistence of black men at Rice University?'" His answer took 15 students and one faculty member — sociology professor Tony Brown — to Atlanta in hopes of accomplishing "one big goal: to foster a stronger sense of belonging at the university," Edmond said.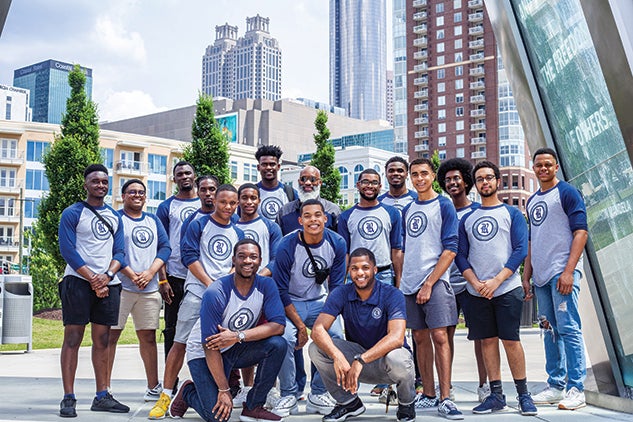 "My four objectives were to improve campus satisfaction, develop an understanding of self, build a support network and overcome all adversity." The trip explored parts of Atlanta that are crucial to the African American experience, including visits to the Martin Luther King Jr. National Historical Park, the APEX Museum and Morehouse College, the alma mater of MLK and the only all-male historically black college.  
"Going on the trip reinforced the need to create more spaces where young black men at Rice can bond and fully express themselves," said BMLI President Tim Harrison '20, a psychology major and forward on the men's basketball team.
"Throughout the trip, I observed and engaged in meaningful conversations and exchanges about race and many other important topics that there simply isn't a space for on campus," Harrison said. As a result, BMLI is already addressing some of these issues by creating new programs and adapting existing ones, he said, "in order to generate more opportunities for these exchanges to happen."
Edmond, too, is excited about the future good work that will come out of this and other BMLI excursions. "I learned how transformative this experience was for all students who participated," he said. "Everyone felt confident in their identity and spirit of brotherhood. The Black Male Leadership Initiative strives to create a similar situation within our organization that will positively impact campus."  
"Going through the lunch counter exhibit at the National Center for Civil and Human Rights, where I virtually experienced the hateful comments made and violent acts against the protestors, really shed a light on how challenging the call to 'love your enemy' is," Harrison said. "It also helped me to see how far we have come and appreciate how much the previous generations sacrificed for mine."