Resources for All
A Q&A with Alan Russell, director of Rice's Disability Resources Center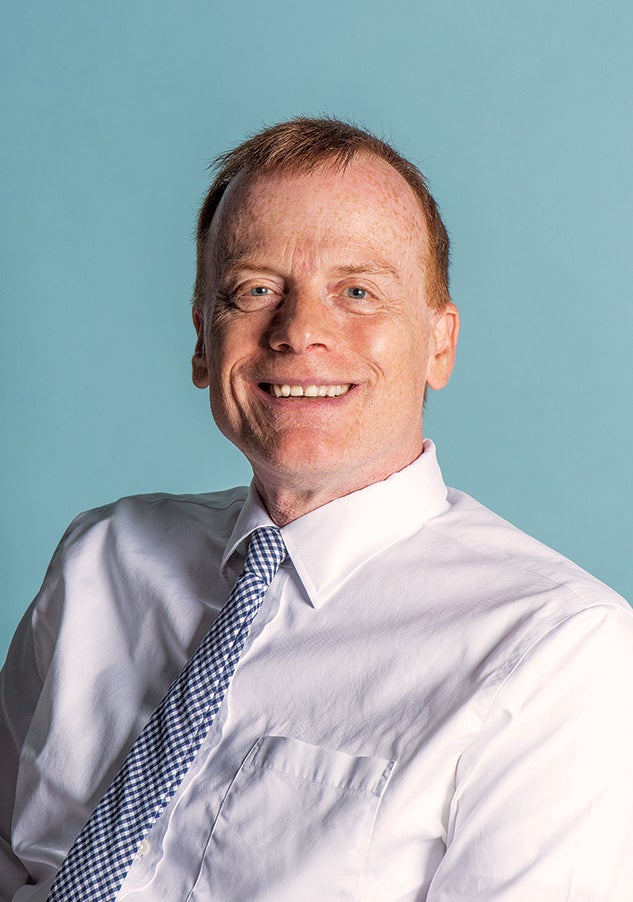 As director of the university's Disability Resource Center (DRC), Alan Russell makes sure students, faculty and staff with disabilities receive accommodations and resources necessary to navigate campus and excel in the classroom. He and his wife, Rebecca, an archivist and special collections librarian at the Woodson Research Center, have lived on campus as resident associates at Hanszen College for seven years. 
You've said being disabled on a college campus is easier now. Why is that?
People are recognizing that permanent disabilities are not just medical issues, but social issues. There can be exceptions, but architectural and attitudinal barriers are the predominant factors that affect persons with disabilities' quality of life more than medical conditions.  Access to the physical environment is crucial, and we need to be able to have architectural barriers removed or not implement them in the first place. 
Are students more willing to reach out to the DRC?
Absolutely. In the nine years I have been here, the demand has grown threefold. The vast majority of students I see do not have a visible disability. Some students with invisible disabilities are very sensitive about their condition being known. And so what I like to remind them is that disability is part of the diversity of life. In any big population like Houston, there are going to be members who have a disability. What I tell students is that having accommodations is part of what makes the educational experience inclusive. 
Can you give us an example of improved campus accessibility?
For many years, Herzstein Hall had a platform lift so people with mobility aids could get into that building. That worked fine up to a point until, as all mechanical things do, the lift failed. Instead of building a modern platform lift, I worked with the Office of Facilities, Engineering and Planning for a better alternative. We came up with a new ramp that would allow better access for people with disabilities and the public in general. I'm promoting a universal design approach for campus: Regardless of disability, let's make the accessibility better for everybody. And let's do this thoughtfully and respectfully of architecturally important buildings. 
Another good example is the Cohen House and continuing studies building. We advocated for sliding doors, which aren't just for persons with disabilities. They're a universal design solution for everyone. Even push buttons for automatic doors aren't always reliable. We also need to be flexible and where a universal design approach is not possible, let's look beyond what's in a technical manual and come up with innovative solutions, which work for the person with a disability.
"Having flexible classroom designs creates a positive environment for learning. Once again, it gives you that sense of belonging, which creates a more positive experience."
It's empowering for a person with a physical disability to be independent and be able to do things for themselves. It's a self-esteem issue, as well. There are many pleasant people at Rice, so getting help is not usually an issue. However, if there is too much inaccessibility and persons with disabilities have to rely on too much help, then it can lead to learned helplessness. This is where you stop figuring out how to do things for yourself. It sounds extreme, but I have seen it happen. 
And in the classroom?
We're doing a lot, including making assistive technologies available in the classroom. These can be anything from communication aids for those with hearing and vision issues to those with cognitive, learning and neurological issues. It's all part of universal design, which includes things such as circulation space in a classroom so that someone who uses a cane or a wheelchair can get around. If you're a wheelchair user, it's very common to be put on the end of a row away from your peers. We would like to see the classes flexible enough where you can fit in seamlessly. Having flexible classroom designs creates a positive environment for learning. Once again, it gives you that sense of belonging, which creates a more positive experience. 
You also serve as the Americans With Disabilities Act (ADA) coordinator for Rice. How does that differ from your post as DRC director?
As ADA coordinator, I advise on construction issues, assistive technology, programs, materials and transportation. I have a seat at the table. I like to point out that even though the disability community is small, the implication is campuswide. And, of course, the ADA is an important piece of civil rights legislation. However, in some circumstances, fulfilling the requirements of the ADA is just a baseline. Depending on the scenario, complying with minimum standards set out in ADA guidance will not lead to good-quality accommodations and an inclusive experience.
Are there any misconceptions about what the DRC offers?
Mental health issues carry a lot of stigma. I see students with psychological issues because these issues have an impact on their lives, even on studying. It's important we get them the accommodations they need. The definition of a permanent disability is any event that lasts six months or longer. Like with any disability issue, we just need certain documentation to get the process started. I help them navigate that. The other misconception is that because you have a disability, you need support and help. That is why I wanted to change the name of the office from Disability Support Services to Disability Resource Center. I want to put the emphasis on the office providing resources for persons with disabilities so they are good to go, just like persons without disabilities. 
Accommodations are a two-way process. The person with the disability needs to work with the accommodations to achieve good outcomes. Work hard, get along with people, learn from mistakes, stand up for yourself and don't get wrapped up in people's negative perceptions of what it is like living with a disability.