Beyond the Buzzword
With help from Rice's Doerr Institute, students are increasing their capacity to lead.
In a sunny McNair Hall conference room, Ruth Oh Reitmeier '92 and a Rice student sit facing each other at a long conference table. The setting is austere, but the conversation is intimate. The student — her long hair loose, a gray backpack and wad of keys at her side — talks candidly about a weakness she has discovered in herself while running a large campus organization. "I'm someone who needs a lot of information," she tells Reitmeier. She likes to stay informed about others' progress on their projects, but her questions have been interpreted by others as micromanaging — or, worse, trying to take credit for their work.
"I guess I still need to work on how to manage without micromanaging," she confesses. Reitmeier sips a lime LaCroix and listens carefully. She prods gently with questions.
"When somebody is accusing you of micromanaging, what do you think they're basing that on?" Reitmeier asks. "What could you actively do to counteract that perception and dismantle those assumptions people might have?" Reitmeier doesn't offer solutions or dispense advice. But for more than an hour the student talks it out, scribbling notes and creating a plan to communicate better with the people in her student organization.
Reitmeier is the assistant director for coaching at the university's Doerr Institute for New Leaders, which provides a wide range of programs — from one-on-one coaching to group-based skill training — to help students develop as leaders. Nearly 40% of Rice students will have worked with the Doerr Institute by the time they graduate. 
The Doerr Institute doesn't offer a certificate or course credit, which allows a kind of a la carte flexibility that differs from most college leadership programs. Both undergraduate and graduate students choose one or several semesters of training or coaching from leadership professionals.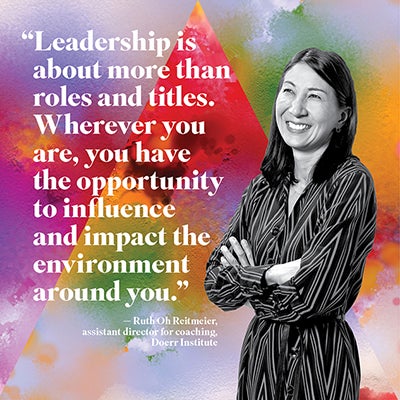 Expanding the Practice
These days, plenty of universities have leadership programs. Many are small and selective, catering to students who are already campus leaders. Others operate strictly within a single program or department, such as a business school. The Doerr Institute is unique: It is available, free of charge, to every student.
"We're not going to select out some blessed few," says Tom Kolditz, the institute's founding director. "We're going to do it at a large scale for anybody who wants it." 
And in the Doerr universe, leadership has a broad definition. It doesn't have to mean holding an office or being in charge. Sometimes leadership training does indeed help the student who is running for campus president or who wants to be a CEO by the time she's 35. But it's also designed to help the international student who wants to succeed in the American workplace, the lifelong "quiet kid" who wants to challenge himself to speak up more in class and the freshman who wants to contribute more to the organizations she has joined.
"We tell them leadership is about more than roles and titles," Reitmeier says. "Wherever you are, you have the opportunity to influence and impact the environment around you."
The idea of leadership training may sound a little corporate, conjuring images of company retreats, ropes courses and trust falls. In 2017, when Jason Lopez signed up for a semester of coaching, he wasn't sure what he was getting into. "I won't lie — I went into it with a little bit of cynicism," says Lopez, who graduated in May. "You hear the word 'leadership' and it's kind of a buzzword, right?"
Lopez thought it might just be a gimmick designed to pad resumes. But he ended up getting involved in just about every program the institute offers. Lopez has an easy manner and an infectious smile, but he hasn't forgotten he is the first in his family to go to college. "I've always kind of doubted myself, doubted my ability to perform well," he says. But as he prepared to leave Rice with a consulting  job lined up after graduation, Lopez recognized that leadership training has given him confidence to navigate his career. 
"You can be the smartest guy in the room," he says, "but if you don't know how to communicate — if you don't know how to establish meaningful relationships — where does that knowledge get you?" 
Catalyzing Change
That's exactly what John '73 and Ann Doerr '75 were thinking in 2015, when they pledged to their alma mater the largest single gift in university history. The $50 million donation from the California couple's private family foundation was an investment in making Rice students better leaders and stronger team players. 
"You cannot make a business with one person — teams accomplish everything," says Ann, a Rice trustee who also serves as chairman of the board of directors of Khan Academy. But it takes instruction and practice, she believes, to lead and inspire a team.
John is a venture capitalist who has backed the founders of some spectacularly successful technology companies, including Amazon and Google. When he spoke at a campus event in December, he recalled the incident that sparked his idea for a leadership institute. In 2007, when he was invited to speak at Rice commencement, he prepared by talking to a dozen or so undergraduates. They were "the best and the brightest," he said — students hand-selected to meet him. But he was surprised to discover that despite their obvious intelligence, they were inarticulate when asked about their work and plans, looking down at their shoes to avoid eye contact.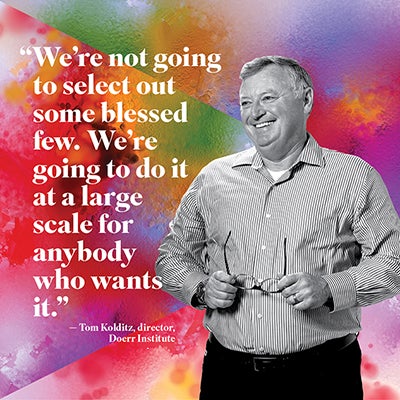 "I thought: You're judged on your ability to think and speak on your feet," he said last year. "What if we conducted an experiment, an experiment of considerable scale, that would involve some training — but most of all some coaching — to develop better leaders?"
In 2009, the Doerrs — who both earned bachelor's and master's degrees in electrical engineering — funded the Rice Center for Engineering Leadership, a multiyear certificate program that builds leadership skills in future engineers. A few years later, they decided to make leadership training available to all Rice students.
 "There are leaders in every sense of the word," Ann says — not just in politics and corporations, but in labs, in classrooms and in families. Learning how to work well with others, to both lead and follow, she says, is necessary in everything a Rice graduate will pursue.
The Doerr Institute operates with 11 full-time staffers from a 1,200-square-foot office in McNair Hall. The training, however, happens everywhere. Leader developers from the Doerr Institute might meet with students at the library or at a coffee shop, but they're just as likely to schedule a phone call or a Skype session that better fits into a student's busy life. 
Lauren Yeom, who graduated in May with a bachelor's degree in cognitive sciences, is a high achiever who used to have trouble celebrating her own successes. She began to untangle that when she signed up for one-on-one coaching her junior year.
Yeom — like all Doerr Institute participants — took an emotional intelligence test, the industry standard EQ-i 2.0, to reveal her strengths and weaknesses. Her biggest weaknesses: self-perception and self-regard. Looking at her life, it made so much sense. Even after a success, "I was always more focused on what failed and what I didn't do," Yeom says. "It was helpful to realize that I'm not good at recognizing what my strengths are, even though I'm really good at seeing my weaknesses."
Yeom's coach gave her techniques for dealing with that tendency. "It was easier, when I had those negative feelings about myself, to catch myself in those moments and say, 'Let me try to implement one of the action plans that I designed with my coach.'"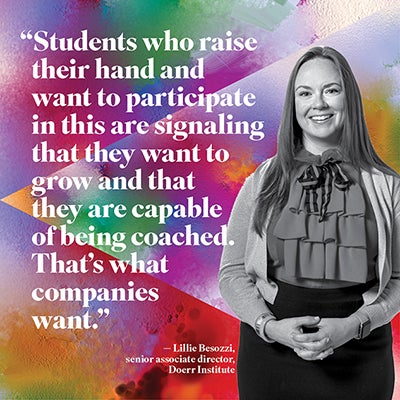 Substance and Results
The Doerr Institute's own leader sets the no-nonsense tone for its programs. To Kolditz, leader development is serious business. Kolditz is disarmingly genial and approachable — he shows up at the institute's recruiting events to mingle with students in a button-down shirt and a fleece vest. But he makes it clear he is focused on substance and results. 
Before he was recruited to Rice, Kolditz directed the Yale School of Management's Leadership Development Program and led the Department of Behavioral Sciences and Leadership at West Point. A retired brigadier general with a Ph.D. in psychology, Kolditz is determined to guard against the "hokey, leader-tainment stuff" found at corporate conferences and retreats. "There are a lot of things that are sold as leadership development that are simply entertainment," he says.
Kolditz also doesn't want the Doerr Institute to turn into a job pipeline that matches students with employers. "We never want students to come to us because they think we can get them a job," he says. But everyone at the Doerr Institute is aware that students are learning skills that will make them more attractive in the workforce, and the institute has a close and enthusiastic relationship with Rice's Center for Career Development.
"This is almost a sorting process we're going through," says Lillie Besozzi '16, the Doerr Institute's senior associate director. "Students who raise their hand and want to participate in this are signaling that they want to grow and that they are capable of being coached. That's what companies want."
Justin Onwenu '18 used to think he was a "phenomenal" listener. Then he got leadership training. As president of the Rice Student Association his senior year, Onwenu had the most visible leadership position on campus — one that required him to hear from fellow students every day. When people talked, he was hearing their words — "I could recite [back] what people were saying," Onwenu says with the ease of a natural-born leader. But he didn't realize that hearing is just one part of listening.
With his coach, Onwenu talked over some of the conflicts he'd experienced with others. That's when it dawned on him: The conflicts might be his fault. "I realized, 'Justin, you are listening really well, but maybe people don't know that,'" he says.
For a semester, Onwenu met privately with his leadership coach. "We worked on active listening and trying to make sure people know their input and comments are valued," Onwenu says. 
Onwenu's first job after Rice was leading community outreach for the Hurricane Harvey Registry, a program tracking the emotional, physical and other impacts of the 2017 storm. His training came in handy while talking to people whose homes flooded, he says. "You have to be a really good listener, and people have to know that you care and that you listened."
Back in McNair Hall, Reitmeier is watching her student arrive at solutions. Near the end of the hour, she leans back in her chair. "I'm thinking back to one of our earlier sessions," Reitmeier says, "and I want to point out something that I've noticed is different." In their first meetings, she says, the student spoke mostly about "tactical stuff: processes, goals, projects."
"You were very goal-driven," Reitmeier says. "I didn't hear you talk much about relationship-building." Today, chastened by experience, the student is concerned with building trust and tending to her connections with other people. "It's interesting, because those are the two things that most leaders need to balance, right?" Reitmeier says. "The higher you go, the more important those relationships are."  
"People are a lot more complicated than a project is," the student says, and it is tempting to focus on the goals instead of the personalities. But with coaching and experience, she has learned that leadership means managing both. "I like to call it my growth arc," she says with a short laugh. "It's been a journey." 
---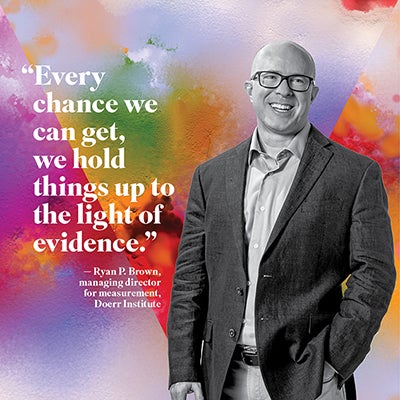 MEASURING LEADERSHIP
How does the Doerr Institute know whether or not it's succeeding?  
The Measurement Mentality
"We do not congratulate ourselves without measuring anything," says the institute's founding director, Tom Kolditz. 
And there are professional researchers who handle that. As managing director for measurement, Ryan P. Brown's entire job is to measure the Doerr Institute's impact. "Every chance we can get, we hold things up to the light of evidence," says Brown '93, a social psychologist. Before coming to Rice, Brown helped establish the Institute for the Study of Human Flourishing at the University of Oklahoma.  
What They Measure
In addition to changes in well-being and perceived progress toward their own goals, one key metric Brown is looking for is change in "leader identity" — whether students see themselves as potential leaders and feel they have the confidence and willingness to lead. Leader identity is measured at the beginning and the end of a semester. Then, it gets measured against comparison groups. More data comes from surveying each student's leadership coach. The institute even surveys friends and acquaintances, who can report whether the student's desired improvements — better communication, self-regulation, self-confidence — are visible to others. 
Brown's research has found that students who spend time at the Doerr Institute experience a measurable strengthening of their leader identity. "Just being older and having been at Rice for four years does not change your leader identity," Brown says. But in studies large and small, a "tapestry" of information shows that Doerr Institute training does.
Process Versus Outcome
Kolditz draws a distinction between "process metrics" and "outcome metrics." It's easy to get good results when you focus on process metrics, he says: "How many students came? Were they happy? Did they like the pizza?" 
But the Doerr Institute is primarily interested in outcome metrics, he says; namely, how its programs alter the way students function in their work and their lives. "It doesn't matter if students enjoy [a program] if it doesn't change them," Kolditz says. "We do more. That's why we know we're not just making students happy; we're making a difference in their behaviors and, therefore, their lives."