Back of the Mind
Running back Aston Walter, Rice football's elder statesmen, is a coach's dream with dreams of coaching.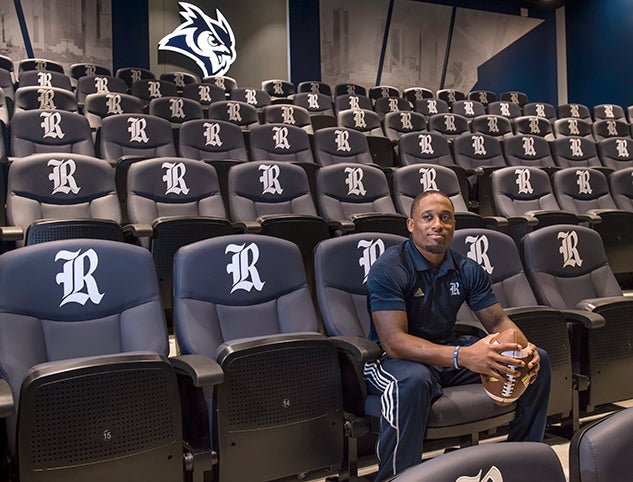 By James Costanzo
It's the type of play only a coach would remember.
The Army defense comes with a "cat" blitz. Aston Walter, Rice's running back, recognizes the look, blocks the oncoming corner and the offense avoids a sack, or worse. It's an almost invisible effort, especially in the box score. But to Jerry Mack, Rice's associate head coach and offensive coordinator, it sent a clear message: Walter is always paying attention. "It wasn't a look Army showed a lot. It was something that we repped maybe one time in practice," Mack said. "To be honest with you, I don't even know if Aston was the guy that took that rep."
Walter arrived on campus in 2014. A former high school quarterback, he redshirted as a freshman and then lost his entire junior season to a broken collarbone. As a result, the NCAA granted him an extra year of eligibility last February, allowing for one final opportunity to suit up. Now in his sixth and final season, Walter has spent more time at Rice than almost anyone associated with the football program — his head coach and offensive coordinator included.
"I'm going to miss this," he said, sitting in the lobby of the Brian Patterson Sports Performance Center, a building he outdates. This season has been, and will be, defined by firsts and lasts for Walter. First look as a starter. First career touchdown — a goal line leap in the first quarter against Wake Forest. First time playing without his identical twin brother, Austin, who graduated Rice last year. Last training camp. Last season opener. Last practice. Last game.
When he graduates, he will do so with one overriding future ambition: to coach. It's a dream he's had since coaching middle school 7-on-7s as a high schooler. "It's something I've loved to do and something I'm going to strive to continue to do whenever I'm done playing," he said. "That will be the next move for me."
It's clear when talking to Walter, and those around him, that the game is in his blood. It's also clear that he processes his career, and his future in coaching, with the maturity of someone who knows himself. "I want to give everything I have to this game," he said. "I'm just trying to savor it. I know that when it's done, it's done."
The first thing out of Mack's mouth when discussing Walter was that he considers it "a great honor" to coach a young man like him. Walter is deep, quiet, observant and confident, according to Mack. He's someone who will make a great coach because he's practically already a coach for the Owls, taking younger guys aside after meetings and explaining anything they didn't understand the first time through.
"He knows what he wants from his game. He knows what he wants from his sport. He knows what he wants for his future. You don't find very many guys like that to be honest," Mack said. Then Mack returned to that unmemorable play from Rice's season opener against Army — the type of play only a coach would remember. "He's always listening and watching everything you do," Mack said. "If being a player is any indication of what kind of coach he will become, he will be a really, really good coach."