Syllabus: Tracing City Histories
Read about this summer student abroad seminar in environmental studies, urban sustainability and research methods.
More than 7 billion people live on our planet at this moment. Slightly half of those people live in cities, and that number is rising by the day. "By the year 2050, we'll have about 10 billion people on the planet, and about 70 percent of them will live in cities," said Richard Johnson '92, a sustainability expert and professor at Rice. "That's 7 billion people."
And while 32 years may seem like a lifetime away to some, others — such as the students who visited Paris and London with Johnson during a summer course designed to examine urban sustainability efforts — will be tackling this issue during the prime of their lives.
This was the third summer Johnson took students to study abroad for the five-week Seminar in Urban Sustainability and Livability Research Methods and Applications.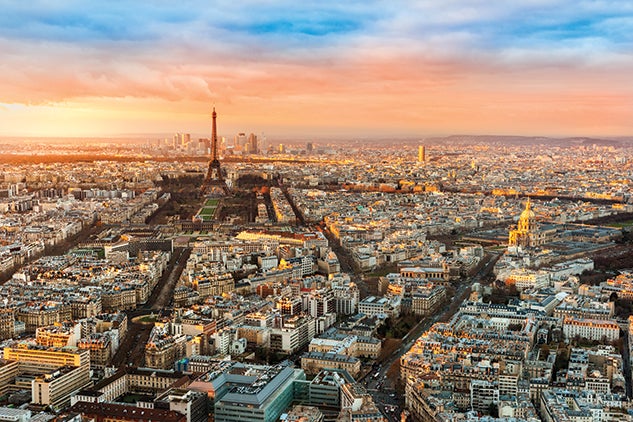 ENST 445: Seminar in Urban Sustainability and Livability Research Methods and Applications
DEPARTMENT: Environmental Studies
DESCRIPTION: Students visit Paris and London over a five-week summer course to study techniques and methods for achieving sustainable growth applied in actual urban settings.
Paris and London, the dual sites of this summer's program, offered drastically different takes on urban planning and design, challenging the idea that there exists a one-size-fits-all approach to creating livable urban centers.
"A lot of what we think about as Paris was a deliberate act of authoritarian urbanism in the mid-to-late 19th century under Napoleon III," said Johnson. Paris had previously been a dark maze of twisting medieval streets plagued by sewage and other perils of overpopulation, until the grand avenues and broad-fronted buildings of urban planner Georges-Eugène Haussmann utterly transformed the landscape of the city between 1853 and 1870. But this was no mere beautification project. "Part of the motivation for doing this was to improve circulation around the city, to open the city up, to provide more light and air, to connect the new technology of the rail stations with each other, to provide infrastructure for water and sewage, and to end the massive cholera outbreaks," said Johnson.
And in London? "The Crown was never willing to have that same heavy hand," said Johnson. "So you have this city that's continued to grow up on this medieval street pattern — these small, twisty, windy roads — and they've had to figure out over time how to keep the city modern and relevant."
Put another way, Johnson said, "Paris offers these complete ensembles; in London, you can explore layers of history in a single block." And it's this dichotomy that afforded students the chance to examine, in context, the best and worst responses to the cities' growing populations over centuries of economic booms and environmental busts.
A dozen students made the trip in total, engaging in hands-on learning through everything from visiting public parks with local urban planning experts to taking a tour of London's loos.
"I saw many aspects of urban sustainability implemented more effectively than they have been in Houston," said senior Allison Yelvington. "This gave me both hope and ideas for what could be possible in American cities."
Richard Johnson is the director of Rice's Administrative Center for Sustainability and Energy Management and a professor in the practice of environmental studies.