End of an Era
On the occasion of baseball coach Wayne Graham's retirement, we take a look back at his long and eventful career.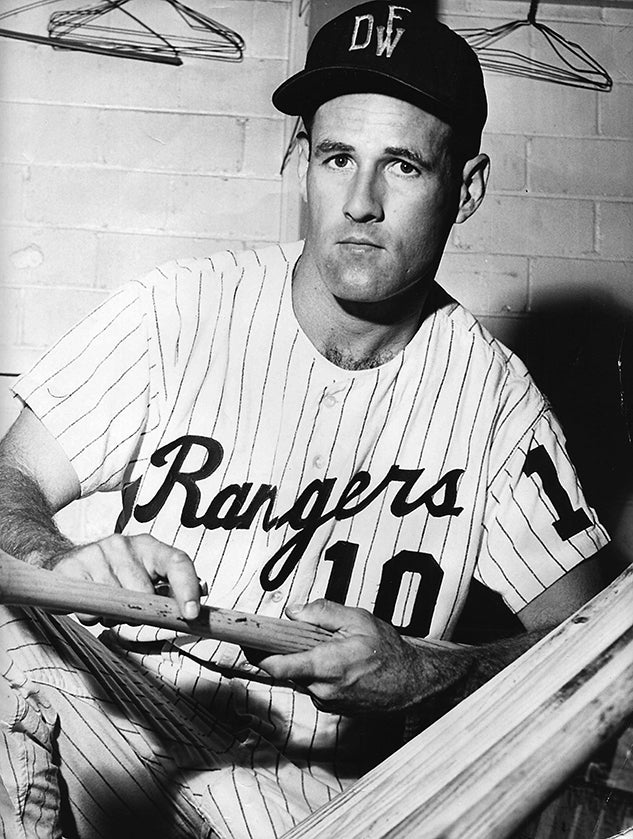 By James Costanzo
Wayne Graham is a product of baseball's golden age.
A time when the game stood, unquestioned, as the nation's pastime, and those who played it were hailed as heroes, never farther than 60 feet, 6 inches from glory. His peers were giants named Mantle and Mays. His coach was "the Ol' Professor," the legendary Casey Stengel. It's a time now lost to the back of baseball cards and Ken Burns documentaries, but it was, ultimately, here where the godfather of Rice baseball earned his stripes and learned that, above all else, winning is sacrosanct. 
"I can't think of anyone who wants to win more than Coach Graham," says Philip Humber '05, a former major leaguer and member of Rice's 2003 national championship team. He echoes a refrain repeated by countless former Owls players and coaches. Put another way: "Coach Graham was just an outrageous competitor," says Paul Janish '05, a teammate of Humber and current Rice assistant coach. "While he loved winning, he hated losing more."
Much like Stengel, a figure he once called "the most astute baseball man I ever knew," Graham was never known to mince words or play favorites. He was old school, a grizzled man of baseball who spent 11 seasons riding buses in the minor leagues to get a total of 55 major league at bats. Graham didn't much care for small talk or pleasantries. You were never confused about where you stood. Yet, you wouldn't dare ask a question you didn't want his honest answer to. He wasn't without his quirks. His players like to note that he'd go home every day for lunch — always a peanut butter sandwich and tuna on crackers — to watch soap operas with his wife, Tanya. He was a competitive handball player and a notorious fan of sci-fi and fantasy novels, known around the clubhouse for more than one "Game of Thrones" spoiler. One of his dogs is named Casey, and he wore No. 37, in part, to honor his former coach. 
Ultimately, however, Graham was about winning baseball games, and he did it better than almost anyone else.
"When you talked to him, coach wanted to talk about baseball," says Joe Savery '08, another in a long list of former Owls to make the major leagues under Graham. "There weren't a whole lot of conversations about where you vacationed as a kid or what you wanted to do after baseball. Everything he did was about winning games. I don't think that was a bad thing."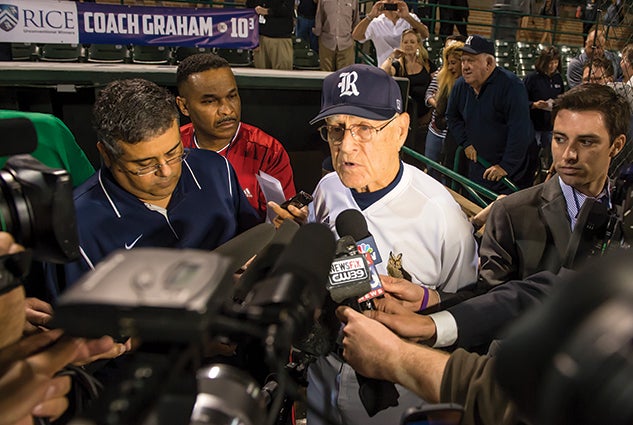 In 27 seasons at Rice, Graham, 82, won 1,173 games, which included a streak of 23 consecutive NCAA Tournament appearances (the third longest behind Florida State and Cal State Fullerton), 21 conference championships and, in 2003, the school's only national title. Many people, including a number of former players, attribute the continued existence of Rice Athletics at the Division I level solely to Graham and his success on the diamond. "I think there's a better case for it than against it," says Savery. 
There will come a time when Graham is more mythology than man. His qualities exaggerated, his accomplishments embellished. The Owls roster will soon be replaced with young men who will never have played for him — a strange reality. But this is not new. Mantle, Mays, Stengel, even Babe Ruth, are now memories kept alive through the stories of those who knew them and witnessed their greatness. "When I think about someone like Casey Stengel, I automatically picture him in black and white. I don't think of him in real life," says Humber. "Coach was real for me. I'll always be proud that I got to play for him."
It's true, the game waits for no one. Golden ages fade, but at Rice, Wayne Graham will remain in living color.